OAHI/CAHPI-ON Education Conference a Success
Published by Erica Phillips
Published on March 8, 2017
Tim Hudak delivered keynote speech at
Ontario Association of Home Inspectors Conference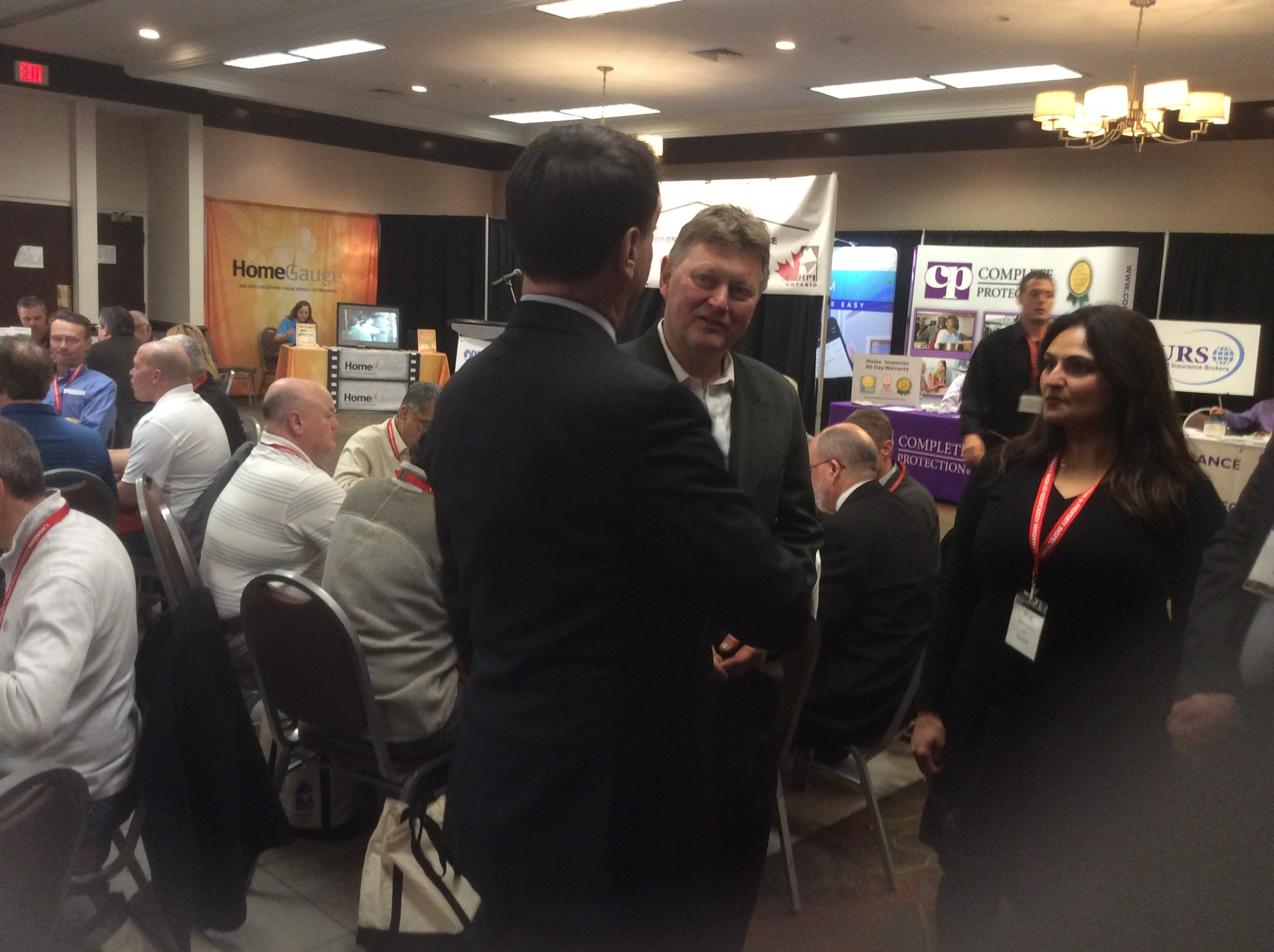 The Ontario Real Estate Association's CEO Tim Hudak had a captive audience of more than 200 people connected to the home inspection industry when he delivered the keynote speech at an education conference hosted by the Ontario Association of Home Inspectors (OAHI) March 3 to 5 at the Holiday Inn Burlington Hotel and Conference Centre.
"Tim Hudak's keynote speech and OREA's presence at the conference were greatly appreciated. He engaged with members and his talk was insightful," says Murray Parish, OAHI's president. "I look forward to working with OREA and other stakeholders in the upcoming months. Consumer protection and better housing stock for all Ontarians is a common goal," he added.
OREA was one of several conference sponsors along with HUB, Carson Dunlop/Horizon, and Tarion.
Home inspectors from across the province, plus exhibitors such as Health Canada (Environmental Health Program), the Canadian Association of Radon Scientists and Technologists (CARST/ACSTR), and Snell Infrared participated in the annual three-day conference.
An inspection at a historical house and a tour of a commercial plant kicked off the OAHI/CAHPI-ON Education conference on Friday. Throughout the weekend, the two hundred plus delegates chose from 16 education sessions from professionals in a variety of areas such as electrical, Bill 59 and the CSA standard, indoor air quality, using infrared cameras, report writing and photography, and the Ontario Fire Code. In addition, the 25 exhibitors and Mentorship Cafe exposed home inspectors to the latest in tools, testing, services, and professional skills geared toward making them better home inspectors.
"This conference was a tremendous opportunity for OAHI to offer many education sessions in one weekend, further connect with its members and build relationships with stakeholders. Education is one of OAHI's keys and the conference reinforces our commitment to ensuring our members maintain high standards to protect homebuyers. The conference was a great success," says Andrew Dixon, the Conference Chair.
About OAHI
Through education and advocacy the Ontario Association of Home Inspectors cultivates a thriving home inspection industry based on the highest standards of professional development and ethical standards. In doing so, OAHI cultivates the 'gold standard' for home inspectors among consumers and the government. OAHI is the only provincially recognized body of home inspectors by The Ontario Association of Home Inspectors Act, 1994. OAHI is a not-for-profit association.
-30-
Contact:
Murray Parish, RHI
President
Ontario Association of Home Inspectors
CAHPI-Ontario
416-524-2768
Photos available on request